Policies for Nantasket Beach Hotel – Hull, MA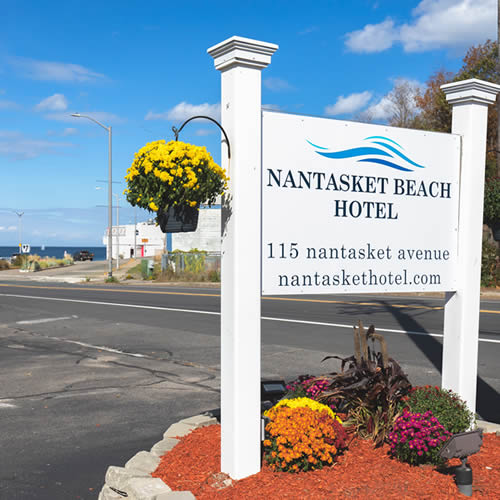 Arrival/Departure – Regularly scheduled check-in time* is between 4:00 P.M. and 10:00 P.M. If your travel plans require that you arrive after 10:00 P.M.; please contact us so that we can ensure that you are greeted properly. Check-out time is 11:00 A.M.
Check In – Minimum check in age is 25. Upon arrival, you will be asked to present your valid Government photo identification along with the credit card used when booking your reservation. If the name on the credit card does not match the photo identification presented, we will need a picture of the credit card, as well as the photo ID for the individual who paid for the reservation. Until that photo is received, a pre-authorization/deposit from the guest checking in is required. Please understand that if using a debit card to pay for your reservation, an additional authorization/deposit may be required to cover any incidentals.
*Early Arrival – We welcome guests who want to start their vacation early with a 2pm check-in time. With advance notice, we can have your room ready a full 2 hours before other guests begin arriving. There is a one time $25 fee for early check-ins.
Payment – Upon confirmation of your reservation, your credit card will be charged for the first night of your stay. For multi-night reservations, the remaining balance (and taxes) will be automatically processed to that credit card 7 days prior to your scheduled arrival.
Cancellation – Payments received for reservations canceled 8 days or more prior to scheduled arrival will be refunded, minus a $25 credit card transaction fee. Payments received for reservations canceled within 7 days of scheduled arrival are non-refundable.
Trip Insurance – We suggest that you purchase trip insurance. (A leading consumer magazine rates several companies that offer it.) While we will make every effort to re-rent your guest room, should you need to cancel a reservation within 7 days of scheduled arrival, trip insurance may guarantee the recovery of your deposit and any balance due
Pets – We believe pets are members of your family, and therefore we have several guest rooms set aside for small dogs. A $45 per night pet fee is required as these rooms are refurbished quite frequently. It is required that you state you are bringing a dog when booking your stay. This ensures that we will set aside a pet-friendly room for you and your small dog.
Children – Welcome!
Groups – Please contact us directly for group rates and wedding blocks.
Parking – The Hotel accommodates one vehicle per guest room.
NEW RESTRICTIONS FOR OUT OF STATE VISITORS: Effective August 1, 2020, all visitors entering Massachusetts must follow new travel orders.
NO RESTRICTIONS: There are no restrictions for visitors from lower-risk COVID- 19 states, which currently include: Connecticut, Hawaii, Maine, New Hampshire, New Jersey, New York, and Vermont
RESTRICTIONS: Visitors from states not listed above are required to fill out a Massachusetts Traveler Form before entering the state and must either quarantine for 14 days or produce a negative COVID-19 test result administered on a sample taken not more than 72 hours prior to arriving in Massachusetts. Failure to comply may result in a $500 fine per day.
In the interest of safety for our guests and staff, and in working together to help slow the spread of COVID-19, we require all guests to agree to comply with this travel order upon making reservations.
Fun Facts
Boston Harbor Islands National Recreation Area is rated the number one place to visit when vacationing in Hull, MA. This National Park consists of 34 small islands just off shore in Boston Harbor. The most popular, George's Island, is home to Fort Warren, a Civil War Landmark that housed Confederate prisoners. Visitors to the 12 islands open for exploration can kayak, tour lighthouses, ride harbor ferries, hike and swim.